San Jose tile maker reclaims porcelain destined for landfill
By Stephen Baxter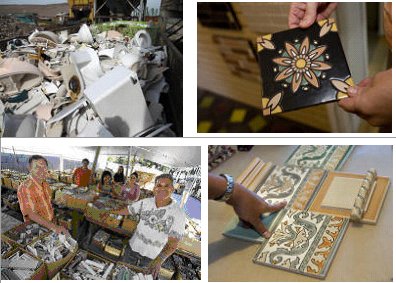 Cast-off commodes are collected at the Zanker Road Resource Management to be recycled into tile…
Paul Burns, the president of San Jose's Fireclay Tile, describes himself as more of a scavenger than a die-hard environmentalist.
He values thrift and resourcefulness, and his company has been making recycled tiles for kitchens, baths and other uses for 10 years. Now, he is taking recycled tile to the next level, and the proof is in the porcelain.
Porcelain?
On Oct. 15, trucks from San Jose's Zanker Road landfill will deliver 150 tons of porcelain to Fireclay's factory in Aromas, outside of Watsonville. The porcelain, which came in the form of sinks, toilets and bathtubs, will be crushed to dust and transformed into tiles.
It took 12 months to collect the 15 debris containers of porcelain, and it comes on the heels of a similar shipment from a San Francisco transfer station near Candlestick Point.
The porcelain will be mixed with other materials and scorched in an 1,800-degree kiln to create the company's Debris Series Tile. The new tile will have 70 percent recycled materials and probably be the only tile in the industry made from post-consumer waste.
Burns is pleased, but it's been a lot of work.
"I've been recycling for over 10 years, and [the landfill operators] would basically hang up on me," Burns said recently. "Which I understand, because they're moving things around on big trucks and have things to do. You're basically a pest, a gnat."
Burns sat on the shaded tile patio of his shop at 495 W. Julian St., where the company's showroom and offices have been since 1986.
The building behind HP Pavilion looks modest from the street, but inside is a burst of colors and tile styles. In the back is the original factory.
Many of its tiles use recycled materials and are known for their quality. Word of mouth testimonials mean its clients now range from Whole Foods Markets to ordinary San Jose homeowners to restoration architects. The company has also been in contact with the architects of the World Trade Center memorial in New York, who asked for round, glass tile samples.
"It's always been a mystery how people find us, but now with the Internet it's become easier," Burns said.
Since its start in the '80s, the business has grown to include 30 employees.
"Years ago people laughed at him," Fireclay vice president Eric Edelson said of Burns' early recycling efforts.
Not any more.
Beginnings
Burns grew up in Saratoga and Los Gatos, and his uncle introduced him to tile-making at age 10.
Burns would spend Saturdays making ceramics and tile in a kiln. The original appeal, he said, was that he could watch a raw material become a finished product.
Burns later worked at Stonelight Tile on Pomona Avenue near the Alma neighborhood of San Jose. In 1986, Burns and three partners started Fireclay, and they chose the location on Julian Street because it was an industrial area that was also close to customers.
They bought a large kiln from another ceramics operation that failed, and set up the tile making shop in the a large warehouse-like space in the rear of the building.
They eventually outgrew that operation and set up their current factory in Aromas, but a new electric kiln will return tile-making to the Julian shop in the coming months. The Aromas factory will continue as well.
All the tiles are made to order from more than 100 standard colors and several hundred designs. Every client's order is handmade, and they don't stock tiles. They simply take orders and make batches.
Trends
Having spent his life in tiles, Burns has seen the fashions come and go.
Brown is back. Peach and teal combinations had their day. The pink-and-black 1940s look shows up now and then. And how could he forget the '70s avocado green and harvest gold combinations. White is still the most popular color by far.
Besides the dozens of tile samples, the shop on Julian Street also includes an outdoor "boneyard," where hundreds of boxes of extra tile are sold in individual pieces.
Because most of the tiles in the boneyard were made from recycled materials and left over from projects, Burns said buying there is kind of like recycling twice.
Some of Fireclay's adventures in recycling have come from coincidence and luck.
The Aromas tile factory is next door to a granite rock business.
Around 1998, the managers of the granite company approached Fireclay about the possibility of selling its waste dust from crushing granite. Tile could be made from the waste dust, it turned out, and the companies agreed to ship the dust–next door.
That deal, Burns said, solidified Fireclay's commitment to using reclaimed materials.
"That gave us a real mission," Burns said. "Then we realized we could make a product with recycled glass. We started using the spent abrasives from sandblasting. Now we're going to be recycling porcelain."
Porcelain is a high-quality ceramic, and Burns came up with the idea of using porcelain sinks, bathtubs and toilets dropped off at landfills. The crushed porcelain will be sterilized when it enters the kiln, so Burns indicated that the "yuck factor" should disappear for customers.
Michael Gross, the Zanker Road landfill's marketing manager, said he like the idea of reclaiming the porcelain after talking to Burns.
"I thought it was a great idea, because I'm always looking for niche markets of recycling materials," Gross said.
Burns said the first porcelain shipment should last about eight months of production–and he's clearly content to see his idea come to life.
"I've always been kind of a scavenger," Burns said. "It wasn't really about recycling; it was about using what's around."
For more information about Fireclay Tile, visit www.fireclaytile.com.
From: http://www.mercurynews.com/san-jose-neighborhoods/ci_16221537?nclick_check=1
Posted: 09/30/2010